Soil Fumigation Research
Soil fumigation is important because having weed-free sod and sprigs is paramount to a successful landscape, athletic field or golf course. The first use of methyl bromide as a soil fumigant in turf applications was probably at the Greensboro (N.C.) Country Club in 1958 during putting green renovation. Since then, methyl bromide's value as a "soil disinfectant" has made it a mainstay in golf course and athletic field construction and renovation.
Methyl bromide is an odorless, colorless gas that has been used nearly seventy years as a preplant soil-fumigant in agriculture throughout the world. Methyl bromide is a natural, organic compound that is produced in great quantities by the oceans, by burning of biomass, and by many leafy plants such as broccoli, cabbage, canola, and others. Because methyl bromide has been designated an ozone depleting substance, restrictions on using it have been put into place and effective alternatives must be found.
Finding a convenient and affordable alternative to methyl bromide for soil fumigation continues to be a focus of our research. As new turfgrass varieties (especially warm-season grasses) enter the market, re-grassing of existing turfgrass sites, including golf courses and athletic fields, requires a clean planting bed. Similarly, sod growers also recognize the benefits of fumigation because off-type contamination is prevalent and lawsuits over contaminated sod are commonplace. Many state sod and seed certification agencies require fumigation and inspection of sod fields before growers receive a "certified" label.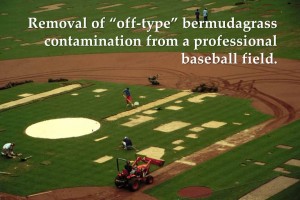 Since 1997, we have partnered with public and private sector scientists to develop integrated management strategies that may utilize a broad range of pesticides to augment the marginally effective fumigants. This means that a combination of the correct fumigants and pesticides might serve as a good alternative to methyl bromide.
Popular Press Articles
Seeking Alternatives for Methyl Bromide – Golf Course Management – 2001. Vol 69:65-72.
Scientific Publications
Fumigant Alternatives for Methyl Bromide Prior to Turfgrass Establishment – Weed Technology. 2002. Vol. 16:379-387.