Dr. Barry Brecke
Professor Emeritus
Weed Science
Dr. Barry Brecke is Professor Emeritus of Weed Science at the UF/IFAS West Florida Research and Education Center. He is currently in charge of the variety testing program at WFREC for several crops including grain corn, sweet corn, cotton, soybeans, grain sorghum and wheat. This is a cooperative project with several county extension faculty in west Flroida. He is a Fellow of the Weed Science Society of America and Past president of the Southern Weed Science Society. Dr. Brecke graduated from Cornell University where he received his M.S. (1974) and Ph.D. (1976) degrees in Weed Science. He has been a University of Florida faculty member for over 35 years.
Programs
Variety Trials Research Website
Extension

Results from replication field trials established to evaluate crop cultivars are used to develop various Extension publications. These include reports posted on the WFREC Variety Testing web page and EDIS documents made available to county extension faculty and growers.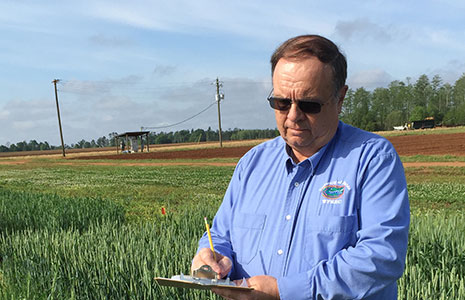 Contact
UF/IFAS West Florida Research and Education Center
4253 Experiment Rd., Hwy. 182
Jay, FL 32565
850-983-7121
Education

Ph.D. Agronomy - Weed Science, Cornell University, 1976
M.S. Agronomy - Weed Science, Cornell University, 1974
B.S. Agronomy, University of Wisconsin - River Falls, 1969

Awards and Honors

Received 2015 UF/IFAS Professor Emeritus Award
Named "2014 Friend of Agriculture" by Santa Rosa County Farm Tour Committee