Dr. Deborah (Debbie) L. Miller
Professor, Wildlife Ecology and Conservation, and NRC Undergraduate Program Coordinator, Milton Campus
Natural Resource Ecology and Conservation
Dr. Debbie Miller has a 70% teaching and 30% research appointment in the Department of Wildlife Ecology and Conservation. She is also an affiliate faculty in the College of Natural Resources and the Environment (CNRE). Dr. Miller is the advisor and undergraduate coordinator for the Natural Resource Conservation (NRC) degree program at the UF/IFAS Milton Campus and teaches or co-teaches 6 courses. Her research encompasses various areas of Natural Resource Conservation including restoration and ecology of coastal landscapes.
Programs
Research

Research: Natural Resource Ecology and Conservation

Dr. Miller conducts research focused on community and landscape ecology and restoration. Topics include plant/animal interactions and disturbance ecology within barrier island, longleaf pine and wetland ecosystem. Many of Dr. Miller's projects involve collaborative efforts with researchers from Environmental Horticulture, Forest Resources and Conservation and Wildlife Ecology and Conservation. Example projects include Barrier Island Dune Restoration, Barrier Island Dynamics, Beach Mouse Landscape Use, Beach Mouse use of Restored Dunes, Fire effects on Longleaf Pine Matrix Grasses, Invasive Species Management, Herbivore effects on Wetland Community Dynamics.

Recent Research Projects

Habitat Use of the Balduina Bee

Hannah Hunsberger, co-advised by Dr. Mack Thetford and Dr. Debbie Miller, recently completed her Masters work on habitat use of a solitary bee endemic to the immediate coast and barrier islands of the Florida panhandle, Alabama and Mississippi. The bee uses only one flowering plant, the coastal plain honeycomb head (Balduina angustifolia) for nectar and pollen. Hannah found this bee, commonly referred to as the Balduina bee, was most frequently found in large, dense patches of B. angustifolia – found on and between scrub dunes on Santa Rosa island and on the immediate coast. Factors that effect the presence of B. angustifolia such as heavy summer and fall rain, sea level rise, tidal inundation etc., are a threat to the conservation of the bee.

‌

Barrier Island Ecology and Restoration

Dr. Mack Thetford and Dr. Debbie Miller work collaboratively on research projects that address barrier island ecology and restoration as well as the conservation of plant and animal species found in this dynamic system. They have recently evaluated the success of using wheat straw mulch as surrogate wrack to enhance sea oat growth and dune building. They are also evaluating the use of multiple species plantings for dune building and wildlife conservation.

Feral Hog Rooting in Seepage Slope Wetlands

Megan Brown is a recent Ph.D. graduate working with Dr. Debbie Miller to understand how feral hog rooting effects the rate and trajectory of vegetation development in seepage slope wetlands in the Florida Panhandle. The seepage slope community is one of North America's most unique and diverse natural ecosystems. Unusual hydrology and frequent fires have resulted in a habitat that supports a variety of endangered, insectivorous, and other endemic (species occurs nowhere else) herbaceous plants. Only one percent of seepage slopes that originally existed along the Gulf Coastal Plain still remain. In the United States, exotic feral hogs are considered to be a significant extinction threat to native species, second only to humans. Feral hog rooting is a serious threat to this community because rooting can potentially set back succession, cause changes in species composition and plant population structure, and reduce unique species. Our research investigates both the long and short-term vegetation dynamics in response to hog disturbance.

Ecology and Behavior of Beach Mice

Dr Debbie Miller, in collaboration with Dr. Lyn Branch, Dr. Madan Oli and Dr. Jim Austin (UF Wildlife Ecology faculty located in Gainesville), and five masters student, one doctoral student and one postdoctoral student, have completed several projects involving the ecology and behavior of beach mice over the last ten-plus years. Understanding the behavior of beach mice and other wildlife species endemic to coastal landscapes will help guide restoration. The latest project will look at the effect of highways on the Perdido Key Beach Mice.

Teaching

Dr. Miller is the advisor and undergraduate coordinator for the Natural Resource Conservation (NRC) degree program at the UF/IFAS Milton Campus and teaches or co-teaches 6 courses to support the Undergraduate NRC degree and Online Master's Degree in Ecological Restoration. Courses taught include: Wetland Wildlife Ecology, Wildlife of Florida and Wildlife of Florida lab, Plant Communities of Northwest Florida (graduate and undergraduate), Natural Resource Sampling, Integrated Natural Resource Management and Longleaf Pine Ecosystem Ecology and Restoration (graduate and undergraduate).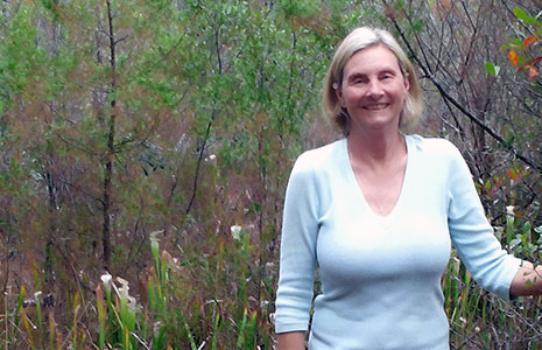 Contact
Milton Rm. 4917
UF/IFAS West Florida Research and Education Center
5988 Hwy. 90, Bldg. 4900
Milton, FL 32583
850-983-7128
dlmi@ufl.edu
Education

Ph.D. Range Science, Texas A&M University, 1993
M.S. Range Science, Texas A&M University, 1986
B.S. Biology Education, University of West Florida, 1978